A line of defense
Chaffee County rallies around common ground to protect its land against wildfires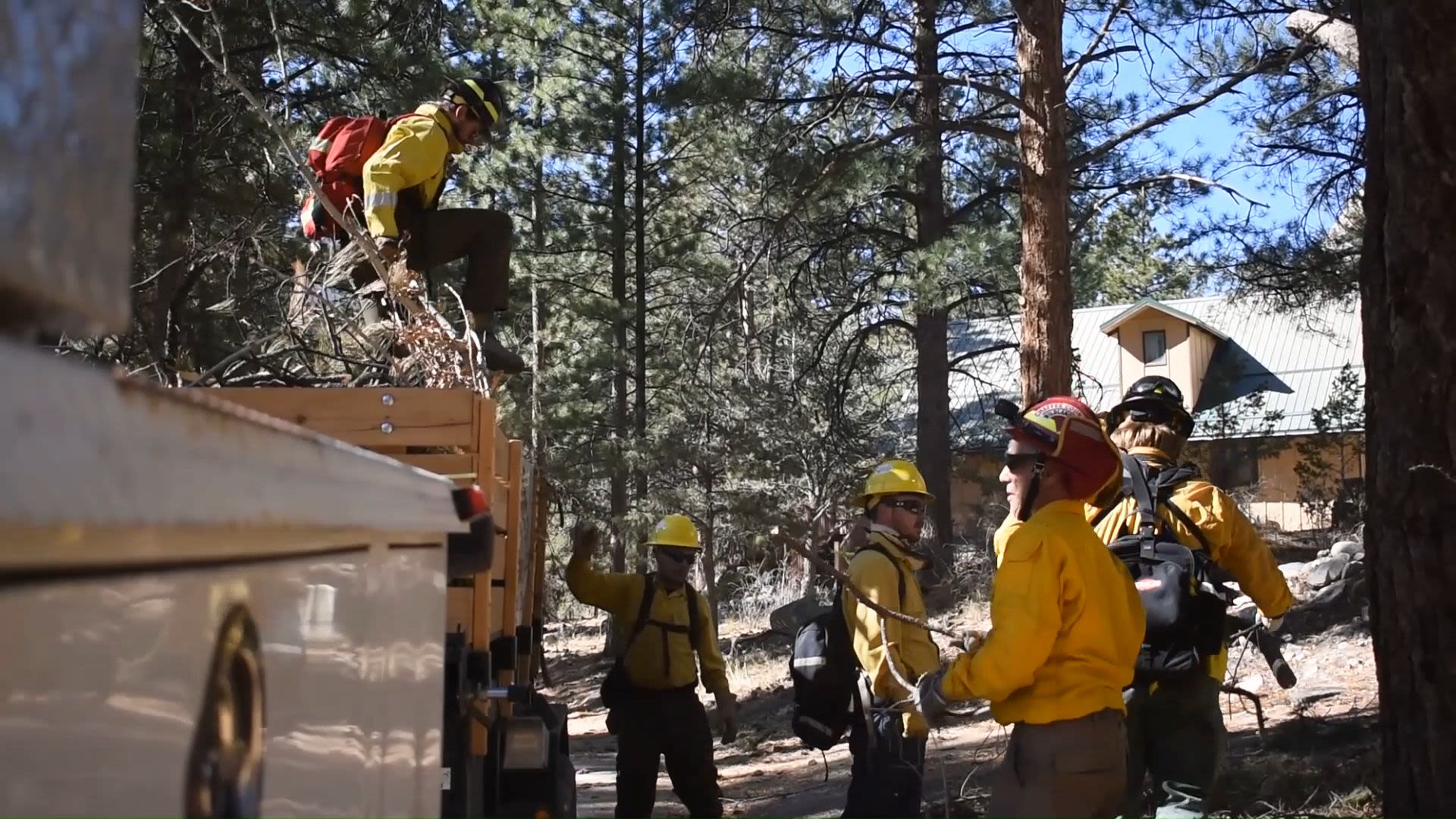 During the gold rush, two families, one in a covered wagon, the other on horseback, traveled to Colorado in hopes of finding their own fortune and American dream.

Some time later, the families became one in what is now Twin Lakes, Colorado, when a dance led to a wedding. The newlyweds ventured into the cattle business and 152 years later, the fruit of their labor, Hutchinson Ranch, is the oldest working ranch in the Upper Arkansas Valley.
(Photo courtesy of the National Register nomination)
.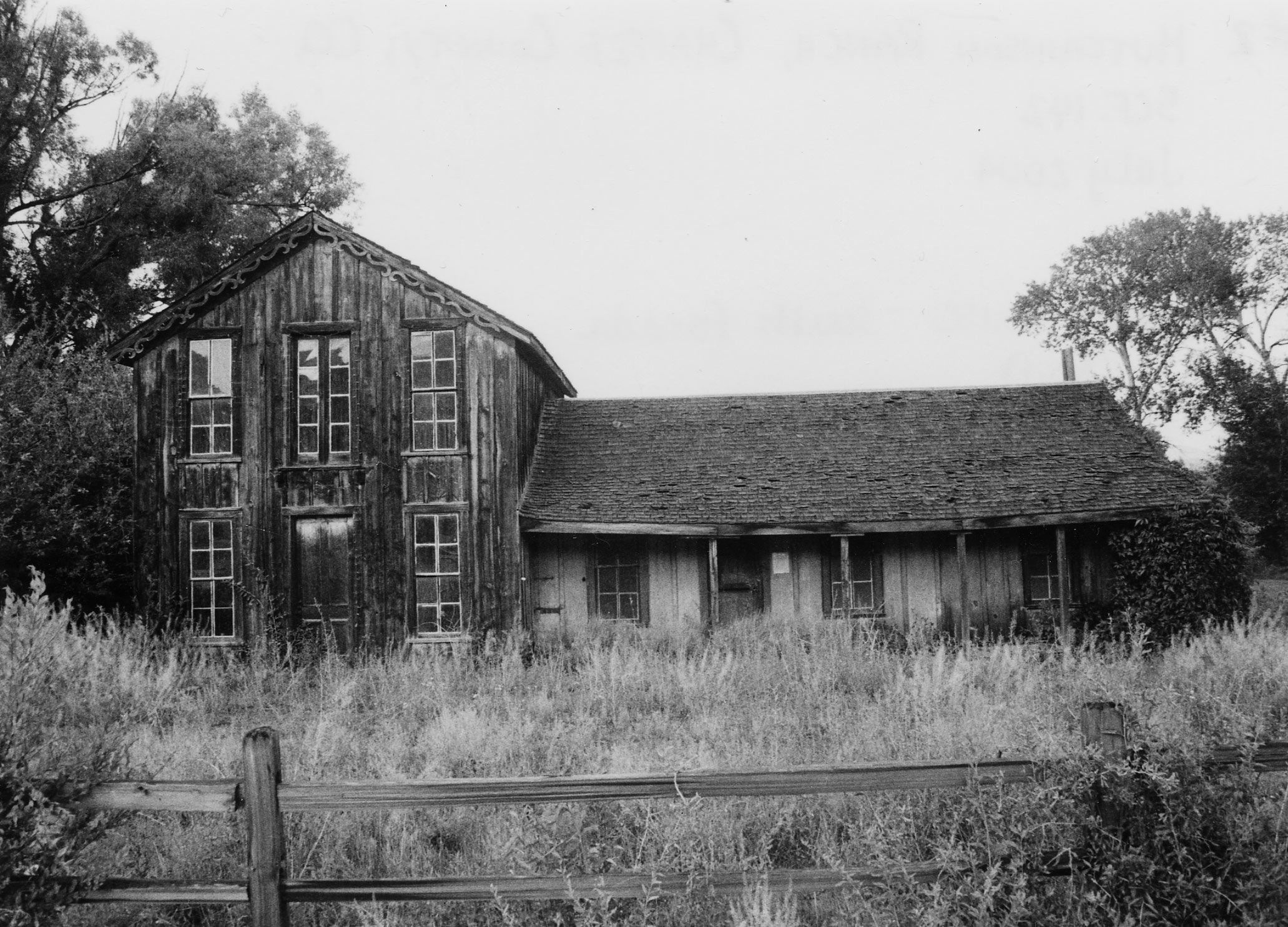 SALIDA — "We're pretty unique, most farms don't make it past four generations," said Art Hutchinson, a fifth generation rancher in the family. Hutchinson Ranch has been passed down through six generations and has grown to 1,500 acres and over 125 mother cows. While Hutchinson still lives on the land, his youngest daughter, Abby Hutchinson, now manages it.
"It's my dad's childhood home and my childhood home and we have deep roots here."
In the last decades, Hutchinson has noticed the increase in fires in Colorado and has watched them inch closer to his family's property. Most recently, the community fell victim to the Decker Fire, which burned through nearly 9,000 acres of neighboring land. These fires pose a threat to the Hutchinson Ranch and the family knows that a fire similar in magnitude to the Decker Fire would be catastrophic. Hutchinson warns that with the current mitigation efforts in place, it's not a question of if a fire will destroy their ranch, but when.
"I look at the Decker Fire as an 'It's coming, drum beat, it's coming,'" Hutchinson said. 
The fear Hutchinson feels is warranted. Every year since 1996, fire seasons in the American West have grown increasingly devastating. This year has been no exception, with five major fires burning in Colorado alone.
Recognizing the continuing devastation and the lack of effort both the U.S. and Colorado State Forest Services were putting into wildfire prevention in the county, Hutchinson and other community members in Chaffee County decided to take action to prevent future wildfires. Together, they created Envision Chaffee County.
"(The Forest Service) do not have the budget or the staff to deal with their forest health issues," said Chaffee County Commissioner Greg Felt, a co-lead of Envision Chaffee County. "We came to realize that there was probably a lot more that we could do with the Forest Service if we initiated it locally."
An increase in the county's population and tourism over the past 20 years highlighted the need for updated and usable community growth and forest health plans. While many surrounding mountain towns had updated their plans in the 1990s, Chaffee was left out as their relatively small population in those days made the issue less of a concern.
Chaffee County was founded in 1879. Originally a mining community, it has become a tourist attraction for outdoor enthusiasts and a home to thousands of Coloradans. Since the 1936 extension of U.S. Highway 285 through Salida, the foot traffic in Chaffee has increased, along with the city's population. In 1990, there were roughly 12,000 citizens. As of 2018, that number has nearly doubled. The Hutchinson Ranch is being boxed in by housing developments.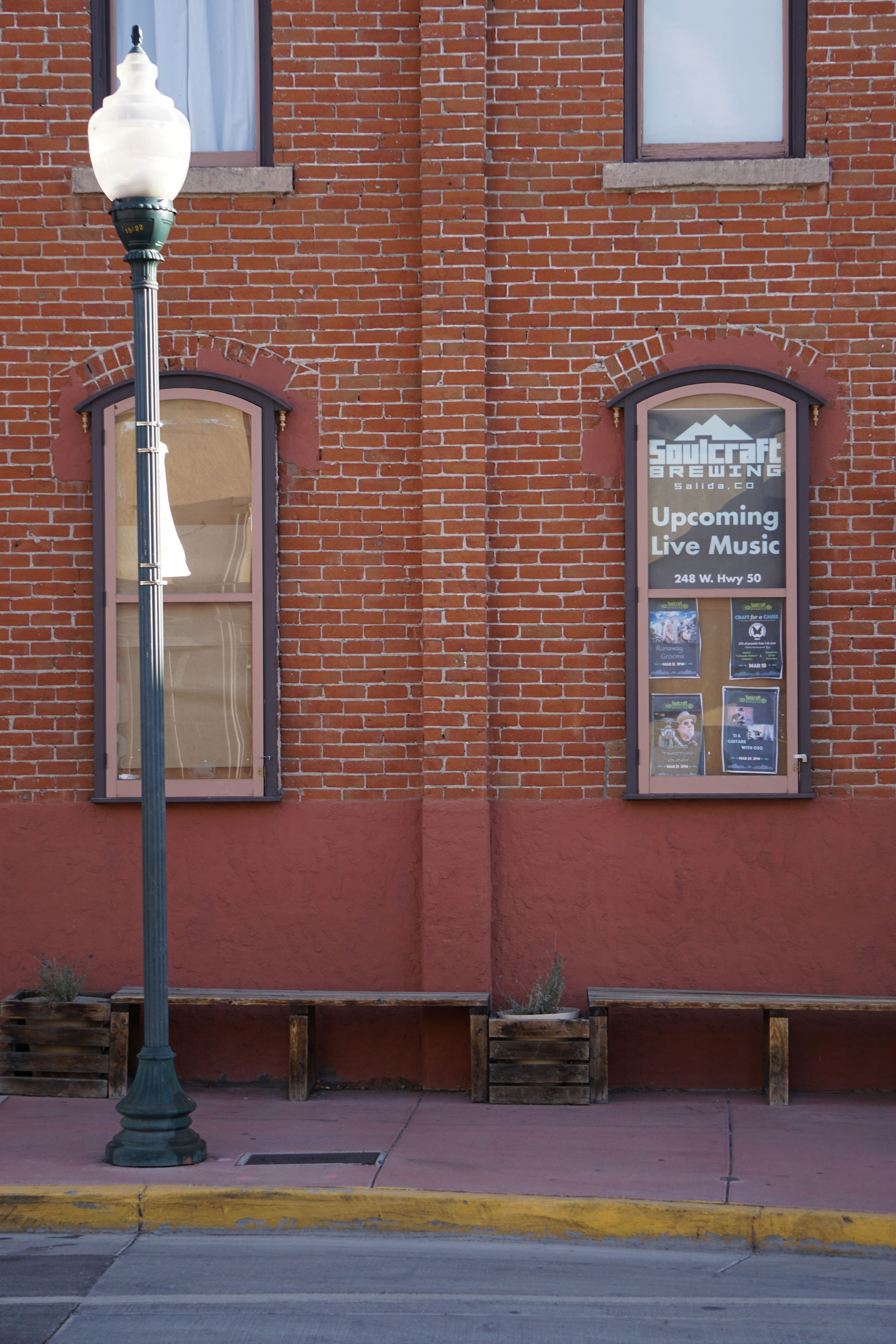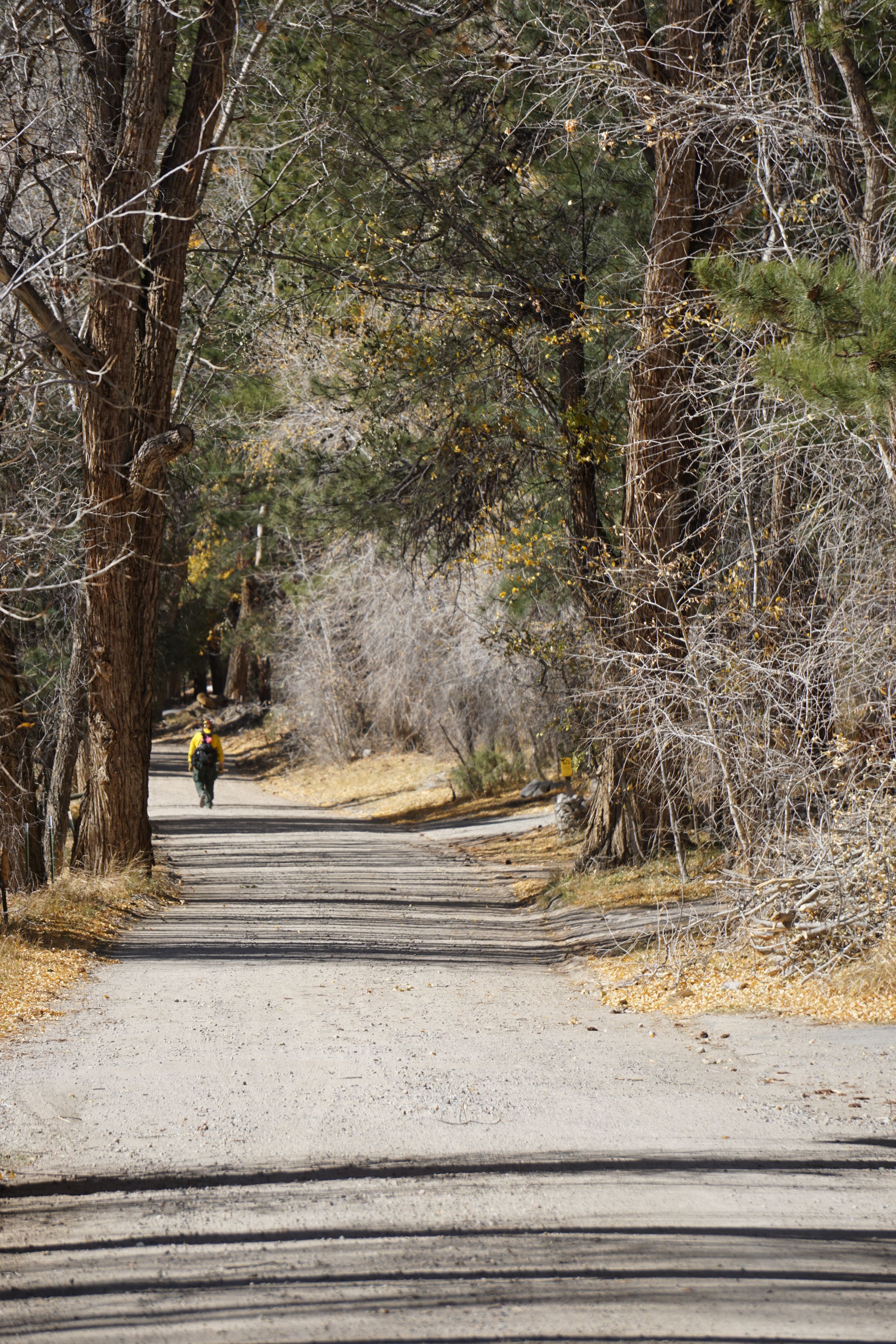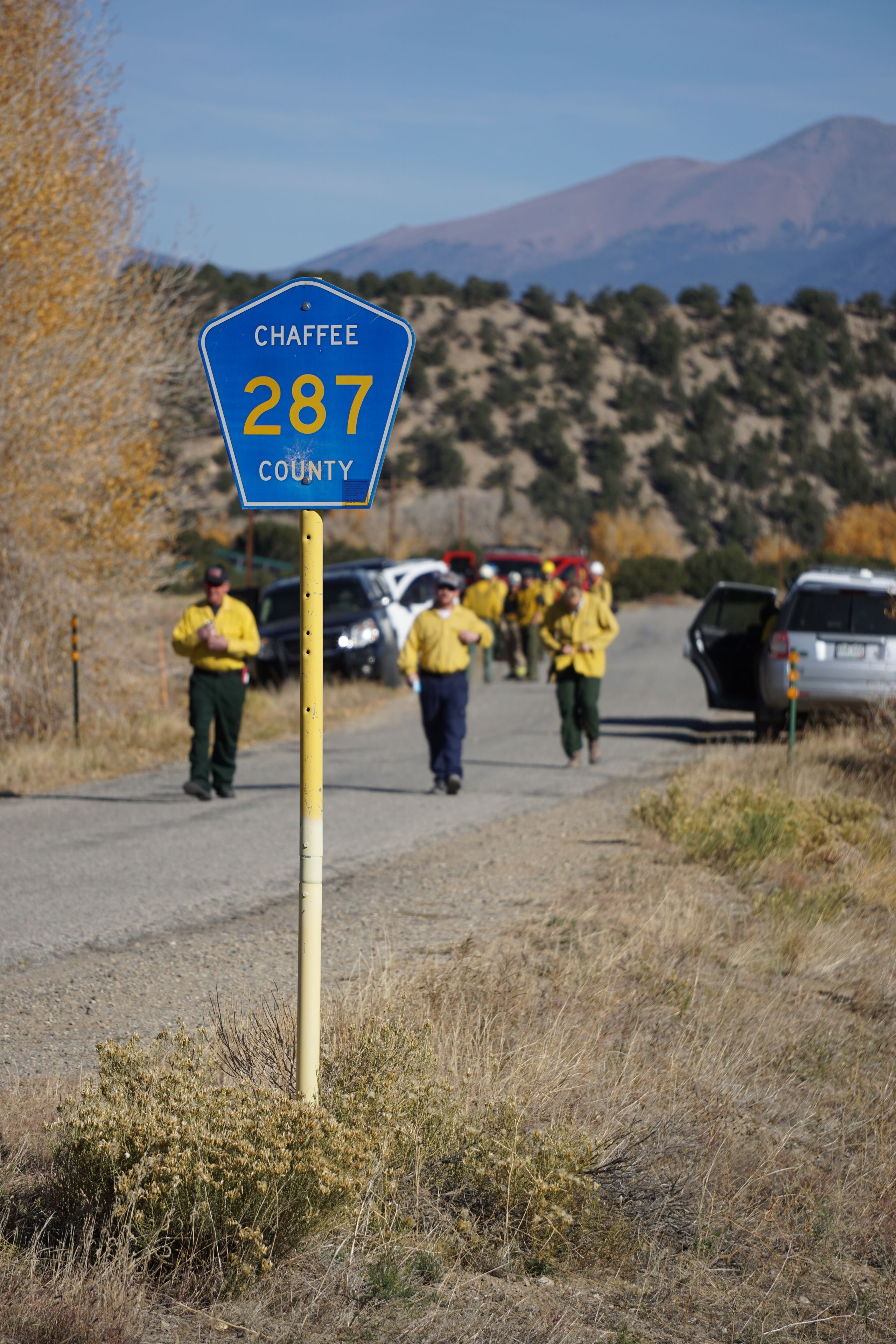 Envision Chaffee County recognized the importance of creating a growth plan and land treatment plan that would not only spur action, but that would also last and adapt. In 2018, they knew the county needed to renew its Community Wildfire Protection Plan (CWPP). The plan is a nationally required document that "identifies and prioritizes areas for hazardous fuel reduction treatments and recommends the types and methods of treatment on Federal and non-Federal land that will protect one or more at-risk communities."
"We took the revision of the CWPP and blew it wide open," said Jim Pitts, a U.S. Forest Service district ranger in Salida.
For the 2020 revision, finalized in January, Envision partnered with Colorado State University's Colorado Forest Restoration Institute, experts in geographic information systems, to map the county. Over 1,500 hours of work later, the resulting map incorporates the likelihood of a burn, the value at risk and the ease of treatment for various areas. The map provides a visual of areas that should be prioritized.
By treating the right 5% to 10% of land, the county can reduce its fire risk by 50% to 70%. In the next 10 years, Chaffee County hopes to treat 30,000 acres.
Chaffee County 2020 CWPP Treatment Priority Area Map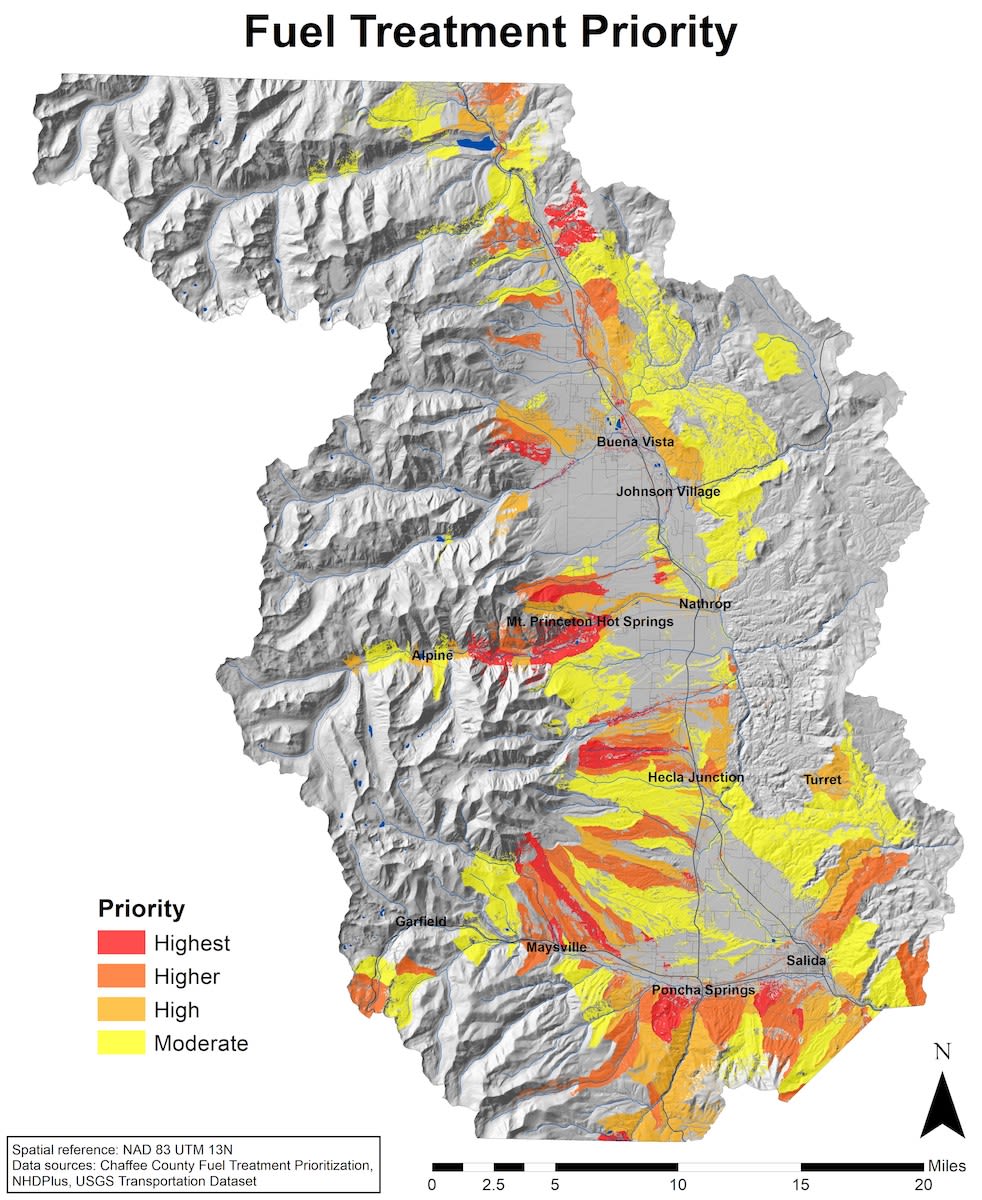 In order to treat the selected swaths of land, Envision needed funding. One of the first major accomplishments of Envision Chaffee County was the passing of a ballot measure in 2018 that would create a 0.25% sales tax. The funds generated from this tax go towards forest health, agriculture, minimizing the impact of human recreation on the local environment, and administrative duties.
"Citizens voted to tax themselves to protect what they love"
The bill not only created a source for the necessary funds but also demonstrated the community's involvement which would become instrumental in the success of this project. While many other counties across the nation have created wildlife protection plans that have similar goals, the way in which Chaffee citizens have come together to make their communities safer has earned them a unique success. 
"Land management is as much a social issue as it is a science-based issue," said Pitts, the district ranger. Even when experts know the problem and how to treat it, to enact change requires public support and local coalitions.
One of Envision Chaffee County's most influential coalitions is the Envision Forest Health Council. The group of around 20 members, representing 15 organizations, brainstorms projects and writes grant proposals. During one of their first meetings, the Forest Service district ranger brought Cracker Jacks, the Parks and Wildlife district manager brought Girl Scout cookies and the group set to work. Four hours later, the council emerged with a grant proposal for a firebreak plan on the Methodist Front that could save lives and enhance ecosystems.
Once funding and local support are acquired, these projects still take a tremendous amount of time to get off the ground. Large scale projects require the cooperation of numerous landowners. Projects on federal land are easiest, according to Marcus Selig, vice president of field programs at the National Forest Foundation. If the forest service already has a plan in the works, it's smooth sailing. If this is a new proposal, the process often takes one to two years. Project leaders must create a plan compliant with the National Environmental Policy Act and get it approved by that agency, making any necessary revisions along the way.
The process is more involved when projects take place on private land or a mix of public and private. Unlike projects on Forest Service or Bureau of Land Management land that cover thousands of acres, projects on private land need approval from various landowners.
"You might have to take it to the extreme, 10,000 landowners with one-acre parcels," Selig said. "Then you have to deal with each individual landowner and figure it out." 
Jerry Stites is an individual who has made efforts within his own neighborhood in Mesa Antero Estates. The fear of the Decker fire prompted him to convince his neighbors to thin junipers on their properties in order to mitigate the risk of fire.
"The Decker fire was the turning point, we were no longer watching fires in California," Stites said. "This could be our backyard."
While the large scale projects are close to being started, there have been numerous smaller community-run programs that have taken off over the last two years. One of these programs is Chaffee Chips. The program encourages members of the community to slash and collect dead trees, branches and brush, and load the chips into trailers bound for Chaffee County Landfill's chipper. After the community members have invested their "sweat equity" into their neighborhood protection, there is a potluck to celebrate. 
"Chaffee Chips empowers community members to create defensible space around their homes by coordinating neighborhood slash removal and chipping services."
As far as larger projects go, Envision Chaffee County planned to start tackling National Forest Land in May 2020. However, due to COVID-19, many of those plans are on hold. Community events have lost their sense of togetherness due to COVID restrictions. The council used to hold meetings where over 200 neighbors would attend together. Those meetings have now been moved to a virtual platform.
Chaffee Chips has also become a very individual process instead of having blocks of neighbors working together. This hasn't fully stopped the community from coming together though, as they now have Facebook pages and Zoom calls dedicated to these efforts. 
Chaffee citizens continue to work to improve their community and have taken it upon themselves to head up dozens of individual projects. Williams knows that these individual citizen efforts are what sets Envision Chaffee County apart from what other communities have attempted.
She quoted Margaret Mead saying, "Never doubt that a small group of thoughtful, committed, citizens can change the world. Indeed, it is the only thing that ever has."